Marcello Sambati – Sul cammino dei passi brevi – 2008
…il poeta è passato di qui, tracce di fango sull'erba, rami spezzati di biancospino. Non è sparito, si fa portatore di messaggi inascoltati e nascosti e preferisce affidare le sue parole al complice merlo.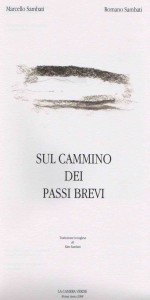 An incurable creature breaths, walks,

In a place with no directions.

Sorrow murmurs in the background,
Atonement of the one and the other.
La Camera Verde
http://web.tiscali.it/lacameraverde/
poesie di Marcello Sambati
disegni di Romano Sambati
Traduzione in inglese a fronte/ parallel English translation
traduzione di Kim Sambati/ Translated by Kim Sambati
per acquistare puoi contattare la casa editrice La camera verde tel. 06 57 45 085
to purchase the book contact La camera verde tel. 06 57 45 085
Recensione di Vincenza Fava (Italia Sera) Leggi
Recensione di Giulio Marzaioli (Tellus Folio) Leggi
Recensione di Ilaria Drago (Il Firenze) Leggi
---